India's women team won the gold medal in Table Tennis yesterday.

In swimming Srihari Nataraj missed for qualifying for Finals.

Badminton's mixed team will play final match today.
CWG 2018 Shooter Jitu Won Gold, Om Bronze and Weightlifter Pradeep Silver: Jitu Rai won the gold medal in men's 10 meter air pistol event on the fifth day of the 21st Commonwealth Games. In the same event, Om Mitharwal of India had to satisfy Bronze Medal. Jitu got 235.1 points in the finals, while Mitharwal got 214.3 points.
Earlier on Monday, in weightlifting, Pardeep Singh won silver medal in men's 105 kg weight category. Pardeep raised a total of 352 kg He won 152 in the snatch and 200 kg in clean and jerk and won this medal. Along with this, India has achieved a total of 15 medals with 8 gold, 3 silver, 4 bronze and it is at number three in medal tally.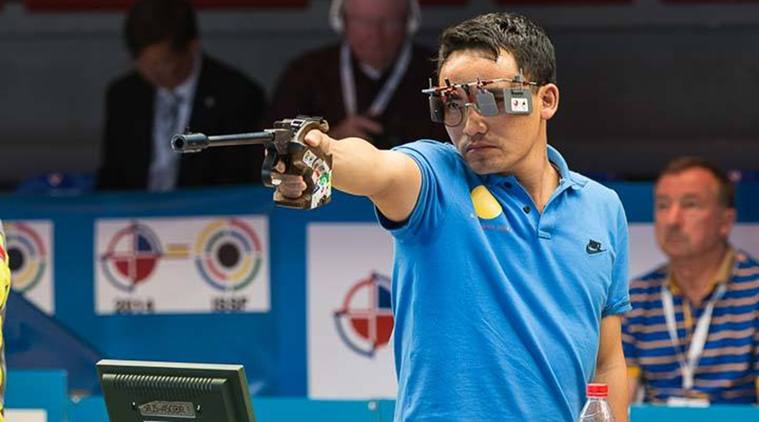 Shooting
India's shooter Apurvi Chandela and Mehuli Ghosh have made their place in the final of the women's 10 meter air rifle event. Chandela got the place in the final in the qualification round, while Mehuli finished fifth in the final. Chandela scored a total of 423.2, which is also a record for the Commonwealth Games.
He scored 105.7 in the first round, 105.2 in the second, 106.1 in the third, and 106.2 in the last round. Mehuli scored a total of 413.7. He scored 104.3 in the first round, 103.7 in the second, 102.2 in the third and 103.5 in the fourth.
Apart from this, women's 10 meters air rifle has started and against India's Apoorvi Chandela and Mehul Ghosh are in the ground. There is also a challenge to save your title in front of Apurva. He won gold medal at the 2014 Glasgow Commonwealth.
Athletics
Poovamma Raju of India has secured fifth place in women's 400m heat-1. Poovamma took time off 53.72 seconds. She is behind 0.125 seconds from Amantle Montsho of Botswana, who secured first place. Jamaica's Anastasia Leroy took 51.37 s and took second place.
Swimming
In men's swimming 200m backstroke India's Srihari Nataraj missed for qualifying for Finals. Nataraj remained in sixth place in his heat.
Badminton
Badminton's mixed team will play final match today.
Table Tennis
In the table tennis, India's women team won the gold medal by defeating Singapore yesterday. In the men's team semi-finals, India has started off with Singapore. In the semi-finals of the Men's Team event, India is getting tough competition from Singapore. India, who is now 2-1 ahead in the match, will have to win their fourth match in order to reach the finals.
The fourth match is going on between Xiamen and Ning Gao, where both have won a single game. If Singapore gets dominant over here and the fight will take place in the fifth match, where there will be great pressure on India. The gold medal is also expected from male players.
Also Read: India's 'Super Sunday' in CWG 2018, five medals won with two gold