Jio Announced To Offer Free 10GB Data To Its Customers: Reliance Jio got the prestigious Global Mobile (GLOMO) 2018 Awards with its technology partner CISCO. It was announced at the Mobile World Congress held in Barcelona. In this happiness, Jio announced to offer free 10GB data to its customers. Jio gave this information to its customers through message and app notifications to customers.
Jio written in message, "Jio TV has won the prestigious Global Mobile Awards 2018 for 'Best Mobile Video Content' in the Mobile World Congress. Thank you for bringing us so high to the global stage. For your enthusiasm, we have added 10GB complimentary data to your account.
This time, Reliance Jio is the only company in India to win the GLOMO Awards. He got the 'Best Mobile Operator Service for Consumers' award with American Technology Company Cisco. In addition, the company's Jio TV app also received the award for 'Best Mobile Video Content Service'. Global Mobile Awards (The Glomo Awards) are considered to be the Oscars of the mobile industry so that they can recognize and celebrate the best of the best, highlighting the technology, products, companies and individuals, which are easy to innovate and moving towards for making a better future for all of us.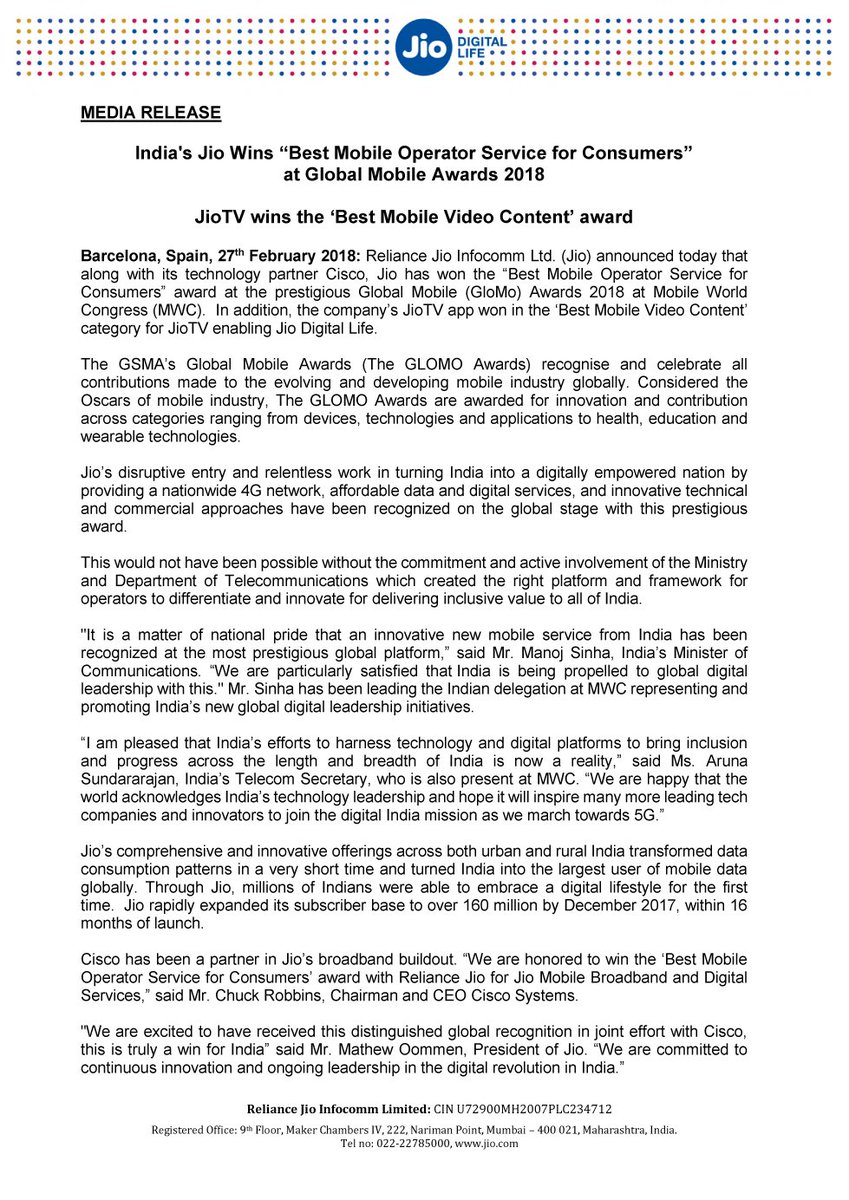 In the joy of winning the honors, Jio said, "We are really excited by getting this prestigious global recognition with our shared effort with Cisco. This is indeed India's victory. 'Other companies receiving the GLOMO Awards in 2018 include names of Samsung, Cisco, Apple, Microsoft and ZTE. However, whether you got a gift of 10GB data or not, you can check it by going to MY Plans of the Reliance Jio app.
In a short time, Jio Tv has been a pioneer in the entertainment space with its 100 million + downloads. Since its launch, it has been ranked consecutively in the Top Entertainment Apps with a rating of 4.4 stars. Jio Tv also won the award for 'Innovative Mobile TV App' at the recently concluded Agis Graham Bell Awards on February 23, 2018 in New Delhi.
Also Read: Jio Won GloMo Award for Best Mobile Operator Service for Consumer